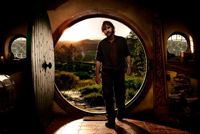 Top News and Features at FamilyFiction (Week of May 29-June 4):
01.
Titles, Release Dates Announced for Hobbit Films
02.
Terri Blackstock: Set The Captives Free
03.
Lord of the Rings Trilogy Remastered Extended Edition Films Hit the Big Screen
04.
Ted Dekker: Ever dream of writing and publishing?
05.
2011 FamilyFiction Readers Choice Awards
06.
Tricia Goyer: Unexpectedly Amish
07.
Beverly Lewis' The Shunning - On Location
08.
Sheila Walsh: Daughters of the King
09.
Frank Peretti: OUT OF THE DARKNESS
10.
Beverly Lewis: Making amends with 'The Judgment'
11.
David Housholder: Some mistakes just part of the bigger plan
12.
Q&A: Marybeth Whalen
13.
New VeggieTales DVD filled with music and mayhem
14.
Q&A: Robin Lee Hatcher
15.
Bruce Marchiano: A Strange Encounter
16.
Q&A: Sandra D. Bricker
17.
Faithboy: From Bobblehead to Comic
18.
Dorothy Love: Southern History With Heart
19.
Shellie Neumeier: Driven Appearances
20.
5 Questions: Dan Walsh